U.S. Concrete: Central Region Ready-Mixed Concrete
Our ready mix concrete products consist of proportioned mixes we prepare and deliver in an unhardened plastic state for placement and shaping into designed forms at the job site. Selecting the optimum mix for a job entails determining not only the ingredients that will produce the desired permeability, strength, appearance and other properties of the concrete after it has hardened and cured, but also the ingredients necessary to achieve a workable consistency considering the weather and other conditions at the job site.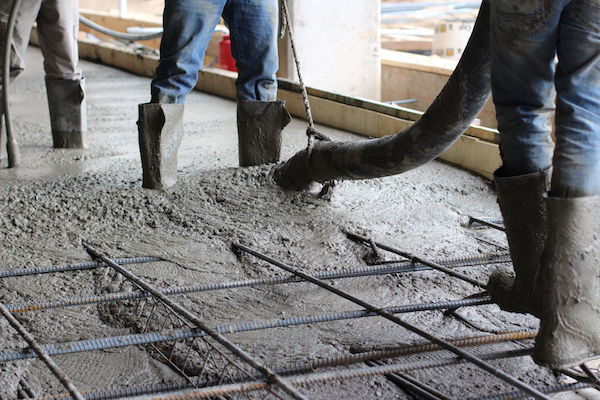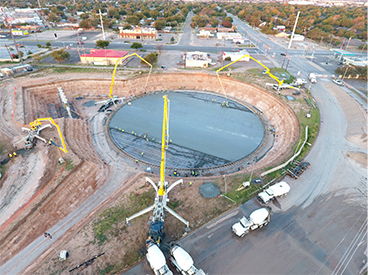 Concrete Mix Design
We produce ready mix concrete by combining the desired type of cement, other cementitious materials (described below), sand, gravel and crushed stone with water and, typically, one or more admixtures. These admixtures, such as chemicals, minerals and fibers, determine the usefulness of the product for particular applications.
We frequently use various mineral admixtures as supplements to cement, which we refer to as cementitious materials, to alter the permeability, strength and other properties of concrete. These materials include fly ash, ground granulated blast-furnace slag, silica fume and other natural pozzolans. These materials also reduce the amount of cement content used which results in a reduction in CO2 emissions.
We believe we can achieve product differentiation for the mixes we offer because of the variety of mixes we can produce, our volume production capacity and our scheduling, delivery and placement reliability. Additionally, we believe our EF Technology® initiative, which utilizes alternative materials and mix designs that result in lower CO2 emissions, helps differentiate us from our competitors. We also believe we distinguish ourselves with our value-added service approach that emphasizes reducing our customers' overall construction costs by reducing the in-place cost of concrete and the time required for construction.
By carefully designing proper mixes and using advances in mixing technology, we can assist our customers in reducing the amount of reinforcing steel, time and labor they will require in various applications. We provide a variety of services in connection with our sale of ready-mixed concrete that can help reduce our customers' in-place cost of concrete. These services include:
Production of formulations and alternative product recommendations that reduce labor and materials costs.
Quality control, through automated production and laboratory testing, that ensures consistent results and minimizes the need to correct completed work.
Automated scheduling and tracking systems that ensure timely delivery and reduce the downtime incurred by the customer's placing and finishing crews.
Value-added Products
From residential to commercial projects, Value Added Products improve placement and/or performance characteristics for a higher quality concrete to economically increase the value of your project. Click on the products blow to find our more about our offerings.
Fiber Reinforced Concrete
High Strength (10,000+ PSI) Mixes


Specialty Products: ARIDUS® Rapid Drying Concrete
ARIDUS Rapid Drying Concrete reduces the drying time and risks associated with excess moisture vapor in concrete slabs, enabling faster, more effective floor topping installations. ARIDUS Rapid Drying Concrete was developed and patented by U.S. Concrete's National Research Laboratory to address recent changes in environmental government regulations that limit or restrict VOCs in flooring adhesives.
While these new formulations may reduce the environmental impact of new flooring installations, the new adhesives are less durable and more susceptible to moisture-related issues. In response, contractors have been forced to combat the problems by adding sealers or lengthening the drying time of the concrete, in hopes of reducing the risk of liabilities associated with the failures of floor coverings. In addition, these remedies increase the time construction time and costs associated with the projects. And none of these remedies address how to reduce the moisture.

ARIDUS Rapid Drying Concrete consumes the excess water and accelerates the drying time, eliminating extended drying times and the need for costly and time-consuming topical products such as epoxies. As a result, ARIDUS Rapid-Drying Concrete not only prevents moisture-related flooring covering failures, but contractors experience reductions in construction schedules and costs. This has led to architects and contractors specifying ARIDUS Rapid Drying Concrete for their flooring projects nationwide. To learn more visit www.ARIDUSconcrete.com